"
"Many bandits have called this place home and the wanted board still shows antics pulled in this town. Bandits still roam the town from time to time and some even say the bank still holds valuables that anyone would like to get their hands on."
"

Westernmere was a settlement in Hallowmere during Dragonhollow's Sixth Era.
Despite its name, it was situated in northern Hallowmere. Built by Wojcik, construction commenced on 6E:61 and was completed on 6E:101.
The town was a hodgepodge mix of squat flat-roofed stone structures and wooden buildings featuring high-fronted facades in acacia, spruce, and dark oak placed on three dirt streets. There was a town hall, saloon, general store, bank, jail, butcher, bakery, blacksmith, stockyard, stables, water tower, and gallows.
The area was quite dangerous due to mobs and men alike. Westernmere was notorious for its banditry problems, causing its wanted board to be routinely filled. The revolutionary outlaw Gabby Two-Guns did hard time there for his murderous excapades, though Tox narrowly escaped mob justice after urinating in the town's water supply by arguing he was performing a community service in providing Piss Water to residents. Short on hard currency, Jinx tried to turn herself in to collect the reward on her own head.
On 6E:111, Wojcik entered Westernmere into the Hallowmere Best Build Contest though he privately felt it did not fit the spirit of the competition nor adhere to its goals. Nevertheless, the town finished in second place.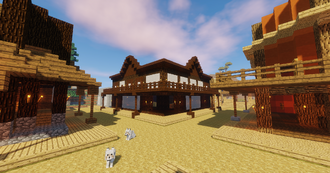 Wojcik and Tox discussed ideas for a railroad that would run from Hardship along the River Acheron to a train depot in Westernmere. However, due to material shortages and declining population, the project never advanced past the planning phase.
Westernmere was a tragic victim of Hallowmere's boom-and-bust cycle. When Woj first began construction, the land was thriving with activity from old veterans and newcomers alike. However, when Eris departed and left Retro as the newly christened Hegemon on 6E:71, growth began to ebb and the population dwindled. By the time the settlement was completed on 6E:101, it had become a ghost town in a ghost land.
Much of the town including the saloon, jail, general store, and water tower were later incorporated into Hammerlea during the Seventh Era as a reward for participation in the Best Build Contest.
Wanted Board
---
Tox

: those damned Wet Bandits


Tox

: though I heard they were the Sticky Bandits now
Wojcik: they tried to rob a kid


Tox

: damn


Tox

: didn't know Spranks had it in him


Tox

: was it 0utta?
Wojcik: yeah


Tox

: tough love

—

Wojcik

and

Tox

discuss the Wanted
Face
Name
Crime
Reward

Tox

Peeing in town water supply
x5 gold nuggets
Retro
Let

rabbit

bite citizens
x2 gold nuggets
Gabby Two-Guns
Killing another man over cards
x5 gold ingots
Ferret Fera
Drunk in public
x1 gold ingot
Acey
Cheating in cards...always had ace up her sleeve
x64 gold ingots
Print
Printing illegal currency
x5 gold ingots
Wojcik
Illegal building permits
Hang Him
Sprankles
Original OG of the Wet Bandits
x3 gold ingots
Jinx
Petty theft of Sloth
x2 gold ingots
HyperSilence
Rigging horse races
x2 gold ingots
Gallery
---
"thank god woj made westernmere"

—

Retro

thankful for

Westernmere
---