"

Tox

: wow infinity+mending bow
FlyingPokemon: is that still possible...?
Zen: Hacks. :P


Tox

: indeed
"

—

Tox

discovers

Infinimend

Infinimend was an enchanted bow assembled by magical means to combine the effects of the Infinity and Mending enchantments.
The bow, though uncraftable, could be improved by mortals through adding additional enchantments in the usual manner. While it was subject to traditional durability issues, the Mending enchantment made it possible to use and repair Infinimend indefinitely.
On 5E:263, Dragonhollow residents lost their ability to enchant a single item with both Infinity and Mending, forcing them to choose between one or the other. Forewarned of this fact, the Hyperion faction manufactured dozens of such bows in the days prior so that they could sell them at a steep premium after they were grandfathered in. Tox and Retro gave one of these Infinimend bows to Terry as a gift for the Pandora Secret Santa.
During the Sixth and Seventh Eras, the bow could rarely be found within Ruins and Hyper Dungeons. It was also available for purchase in Tortuga for 500 tokens.
Behind the Scenes
---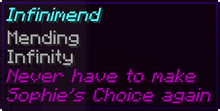 The following is out-of-universe information about the real world Dragonhollow.
Tox

: a book with Mending+Inf would be interesting, if you can still do that with commands


Hyper

: try


Hyper

: ):


Tox

: :(


Hyper

: yeah


Hyper

: sucks


Tox

: I guess you could put in on a bow


Hyper

: tru


Tox

: the Rambow, dropped by lil' Rambro

—Genesis of the idea
Infinimend was created by HyperSilence based on a suggestion from Tox for the Twilight Project. The name and lore were developed by Tox.
Initially, Tox recommended that the name be the Rambow or Rambrow, named after Rambro, the guardian of the Rambro's Eyeland Hyper Dungeon. However, Hyper chose not to give it any name or lore, leaving it a blank slate for adventurers to personalize. Later, Tox devised the Infinimend name as older lore references and items were being discontinued for the Seventh Era.
On December 20, 2016, Dragonhollow upgraded to Minecraft version 1.11.1, which made the Infinity and Mending enchantments mutually exclusive, a change that was met with mixed opinions. The server rewarded daring citizens brave enough to raid dangerous naturally generated structures with the chance of obtaining the Infinimend bow and using it as a base for the creation of an uberbow in the classical fashion.
---