Jurassic World: Dominion Dominates Fandom Wikis - The Loop
Play Sound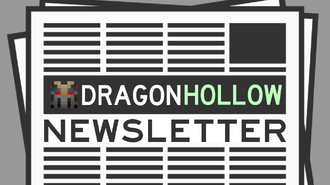 The Dragonhollow Newsletter was a monthly current events publication written and distributed by Tohbeh during Dragonhollow's Fourth, Fifth, and Sixth Eras.
History
---
"So when can we expect the next issue of the newsletter? I feel so uninformed without it."

During the Third Era, Tohbeh produced the Northham Gazette, a private newsletter for members of the Justice League and later their allies The Fabled and the supergroup Unity. Based on this prior experience, he became interested in writing news that could inform everyone in Dragonhollow. On 4E:87, he released the first of a three issue public newsletter known as the Dragonhollow Recap.
After his impressive debut, Tohbeh reached an agreement with the goddess Eris to be her official news reporter and began publishing a brand new bulletin in the Forum. The first issue arrived on 4E:141.
Because Tohbeh was unavailable, HyperSilence compiled and published the Eighth Newsletter on 5E:96.
After his body was possessed and then stolen, the newsletter went on indefinite hiatus following the release of the Tenth Newsletter. Once he acquired a new body, Tohbeh resumed publishing on 6E:39.
Archives
---
Print: take a picture of it
Print: that better be in yb's newsletter

—

Print

was an avid reader

Dragonhollow Newsletter Issue 1
Dragonhollow Newsletter Issue 2
Dragonhollow Newsletter Issue 3
Dragonhollow Newsletter Issue 4
Dragonhollow Newsletter Issue 5
Dragonhollow Newsletter Issue 6
Dragonhollow Newsletter Issue 7
Dragonhollow Newsletter Issue 8
Dragonhollow Newsletter Issue 9
Dragonhollow Newsletter Issue 10
Dragonhollow Newsletter Issue 11